How it helps?
Viewing market volatility across multiple currencies or instruments is done at a glance.
A free forex volatility scanners.
Fully customizable on the chart.
It can work on all sizes of the screen, even to the largest.
Purchase includes
Access to the indicator

Auto software upgrade

Free web manual

Maximum activation for 5 devices

Life time technical support
Version
| | |
| --- | --- |
| Current Version : | 1.13 |
| Updated : | 6th Sep 2019 |
| Published : | 24th Jun 2016 |
| Operating System : | Windows 7/8/10 |
Info
| | |
| --- | --- |
| Timeframe : | all |
| Trading Style : | anything |
| Traded on : | all |
Copyright Protected by Copyscape

Last updated on 30th Jan, 2022
ATR (Average True Range) is an Oscillator, part of the technical analysis which shows the volatility of the market. How many pips or points market movement per candlesticks or bar. Under a certain time, what is the average movement of the market. This indicator helps a lot to understand where a forex trader should place his or her stop loss. Also where to put the take profit of the trade. For a day trader daily ATR level can be very useful to gauge possible market movement.
Example
If a trader bought EURUSD & planning to hold it for 1 hour. If from the ATR dashboard 60 minutes ATR shows 19, that indicates, the trader should averagely expect 19 pips profit out this trade under 60 minutes.


Using it only for one pair:
The indicator has an option where the trader can use it for the current chart only. A single option which saves time. See the picture the below for better understanding. Setting the below option true will show the ATR data for current chart.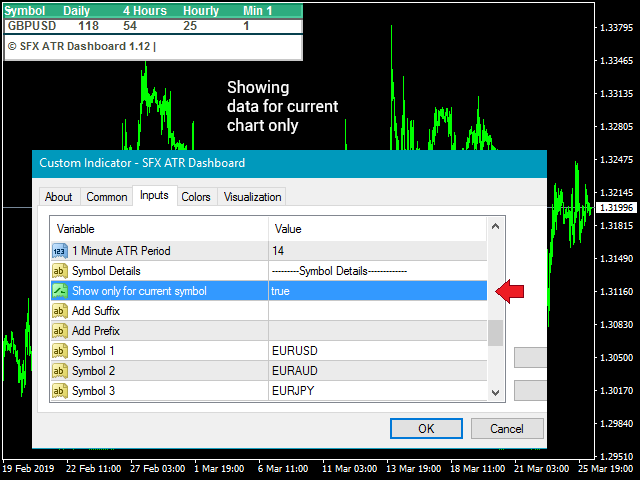 Multiple Timeframe:
Suppots all timeframe which metatrader has. You can select upto 4 timeframes one at time to display ATR value accross different forex pairs or instruments.

Content:

Indicator Manual
FAQ

Indicator atr data is not updating or not showing any correct data
Make sure you have added proper prefix & suffiix code. For example some broker symbol for EURUSD is m.EURUSD. Then at prefix you need to add "m."
© 2009-2022 INTRAQUOTES | Registration No. 482013140 (India) | All rights reserved.
Risk Warning: Trading CFDs, Forex, stocks, derivatives is highly speculative and carries a high level of risk. 73.57% of retail investor accounts lose money when trading Forex, CFDs, derivatives stocks with our partner brokers or with our products. These products may not be suitable for everyone and you should ensure you understand the risks involved. Kindly read our full risk disclosure
1
Would love your thoughts, please comment.
x