Indicator which almost accurately predict intraday top bottoms with daily pivot points, support & resistance levels. Day trading success with WD Gann mathematics. Provides better accuracy than other metatrader indicators. professional tool for day traders, which also predicts time zones for market trend change. Market turning points.
You can purchase or rent this indicator from mql5 site directly.
Purchase includes

Access to the indicator

Auto software upgrade

Free web manual

Maximum activation for 5 devices

Life time technical support
Version
| | |
| --- | --- |
| Current Version : | 1.00 |
| Updated : | 21st June, 2019 |
| Published : | 21st June, 2019 |
| Operating System : | Windows 7/8/10 |
What is does

It shows intraday support & resistance levels.
What is doesn't do
This is not a standalone system hence consulting with other technical analysis will be highly recommended.
Top features:


WD Gann Master Charts

shows intraday support resistance


Custom Pivot

using current day or previous day high lows


Custom Timing Option

can be used on different forex market hours


Clustering Pivot

shows 4 hours, 1 hour pivots


Gann Grid Chart

ultimate gann grid trading system


Email Alert System

2 types of price alert with support and resistance levels
Info:


Time Frame

Best works with 1 minute & 5 minutes chart. Grids are best visible on 5 minutes chart.


Trading Style

Anything from scalping to position trading


Traded on

Mostly works great with Forex pairs,Gold,Silver, Crude Oil, Indices. Only need to adjust the scale.
Protected by Copyscape
Manual Version : 1.8

Last updated on 6th June, 2019
WD Gann History
William Delbert Gann commonly known as WD Gann was a legendary trader back in 18th to 19th century. He is famous till today for his mathematical formula which can predict important high and lows with greater accuracy in the financial market. He had developed different types of master charts, like the square root of nine, the circle of 360, hexagon chart etc back in the 19th century.
This indicator is developed with WD Gann mythologies smartly tuned for the modern financial market. Indicator backtest result since 1999 proved it works frequently. Not just 1999. The applied method on 18th-century data also worked with different markets. The method works for anything that has a quote even for cryptocurrencies.
---
Scale Settings:
Indicator has following scaling options,
| | |
| --- | --- |
| 0.01 cent or 1 pip | Works best with Forex pairs |
| 0.1 cent or 10 pips | Works better with WTI crude oil, silver |
| $1 or more | Indices, Gold, BTCUSD bitcoin |
---
Dashboard Parameters:
The dashboard contains 3 sections, with the 1st section it shows symbol name & its day range in points. The second section shows the current pivot trend & the last section shows trend status.
Trend status shows the following signals:
Up trend
Down trend
Weak uptrend
Weak downtrend
Correcting uptrend
Correcting downtrend
These signals basically get calculated with current price position & pivot position with multiple time frame analysis.
---
Trade with Pivot Points:
There are 3 types for pivot points are available for multiple time frame analysis.
Daily Pivot (default)
4 Hours Pivot
Hourly Pivot
Only daily pivots which have two parts, minor & major support resistance levels.
| Type | Support Levels | Resistance Levels |
| --- | --- | --- |
| Major | S1, S2, S3, S4, S5, S6 | R1, R2, R3, R4, R5, R6 |
| Minor | S1, S2, S3, S4, S5, S6 | R1, R2, R3, R4, R5, R6 |
Notes! Among these levels, Major S1 or Major R1 is an important area for breakout or reversal. If breaks Major S1 or Major R1 that indicates a breakout trade.
The main objective of using multiple time frame pivot points is to get a proper trend indication with sweet spots entry & exit points. It is always recommended to use all daily, 4 hourly, 1-hour pivot points altogether for better results. Example follows.
Example 1
GBPJPY pivot clustering
With the picture above, we can see, the market is already up above the daily pivot opening price & 4-hour opening price in an uptrend. But it is below the hourly pivot, so indicating uptrend correction. Therefore, we will look to buy position hourly S1 or from 4-hour opening price, i.e buying lows.
Also, notice market had created a minor top around 4 hour R1 resistance level. So this is a simple approach to understand what you should do in your day trading. Buy position, in this case, should continue until daily minor R1.
Example 2
EURUSD day low with H4 support
In this example above, we can see EURUSD created day low around the 4-hour resistance level. Buy possibility was here along with hourly pivot. The position could be trailed as long as it stays up above the hourly pivot.
Example 3
GBPUSD top during European opening

Here we can see during the European opening session GBPUSD created a top around 4 hourly resistance level.
Example 4
Gold line chart with the daily pivot
Here only with daily pivot Gold line chart is showing a clear reaction. Look how intraday top & bottom formed around major resistance ∓ minor support level.
Example 5
GBPUSD 4hourly resistance levels
Here we can day trading top has been formed at the 4 hourly resistance.

---
Using Gann Master Grid Chart Layout:
It contains, dynamic support & resistance levels which are marked as bullish grid & bearish grid. Also, it plots horizontal price levels & vertical time lines.
Grid Component
Minor

Support / Resistance Level

As the name suggest, it shows all minor support & resistance levels which can be advantageous with low volatile forex pairs or trading instruments.

Major

Support / Resistance Level

With high volatile forex pairs or indices major support resistance levels plays an inportant role, most of the day top or low get formed around these levels

Grid

Diagonal Lines / Channels

It has two parts bullish grid lines & bearish grid lines which basically forms a bullish & bearish channel. This is very helpful to spot a market trend or market structure throughout the day, whether the market is in range mode or in a bullish or bearish trend.
Sometimes GBPUSD or GBPJPY any important top or bottoms forms around this grid line levels during any major forex news.
---
Trade Management
With a grid layout, it is very easy to trail any running trading orders if its in a profit. Also, you can easily spot when you need to close your position if the trend goes against your trade.
Trail Position
As long as the market stays above any bullish grid lines it's in uptrend from that grid line. So a trader can move their stop loss level to few pips below of that bullish grid line. Sometimes if the market goes higher by breaking the bullish grid channel & moved to the next bullish channel. Then trader can trail stop loss with that new bullish grid line also.
Vice versa for bearish grid channel. As long as the market stays above any bullish grid lines it's in uptrend from that grid line.
Example 6
GBPUSD trail stop loss
GBPUSD trail stop loss
In this example, we can see GBPUSD is in a downtrend & changing its downtrend slope from A to D, time to time due to slow market movement & correction. Therefore, sell position stop loss can be changed from B to C to D bearish grid lines.
Close Position
If the market stays in a range for a long time & indicating it is going to change the trend by moving from bullish channel to bearish channel with conjunction points vice versa, then that's an implies its the time to close the trade. Market reacting on any major or minor support resistance level sharply also indicates the trend has been changed, so it is better to close any going trades.
Example 7
GBPJPY trend change
GBPJPY trend change
With this example above, we can see GBPJPY was following bearish grid line when it meets minor support, it reverses & keeps continue to move upward with the bullish channel.
Example 8
USDJPY spot range with grid layout
USDJPY WD Gann grid layout in range market
In this example above, we can see how USDJPY forex pair stays inside a range with WD gann grid layout during 2 major forex session & later broke the lower part of the range & continue downtrend during mid US session.
Learn more about Grid chart trading here from our day trading strategies:
Example 8
EURAUD daily pivot points
In this picture above, we can see that EURAUD is following a trend channel with Gann bullish & bearish grid lines. You can decide your entry and exit with this grid channel. Also, can place trailing stops with this diagonal grid support & resistance levels. For Trendy pairs like GBPJPY, the market works inside the bullish bearish grid channels.
---
Using custom timing for Non-FX instruments:
For Non-FX instruments which do get operated with 24 hours market structure them, the user needs to enable custom timing options. In order to do that, the first user needs to find out the custom timing for those specific instruments. From Market Watch Window, right click on the instrument & from right click menu click on Specification. To get Instrument Start hour & End hour. Below is the example of US30.
Custom timing option settings
Input these data on indicator custom time settings:
Custom time input
---
Price Alert:
Alert system has two types of price alert:
Price at pivot resistance
Price at pivot support
Time price at conjunction point
You can select the gap between alerts. Everytime market goes near to any major or minor support/resistance level or touches that level, you will receive a terminal alert, mobile push notification alert or email alert according to your choice.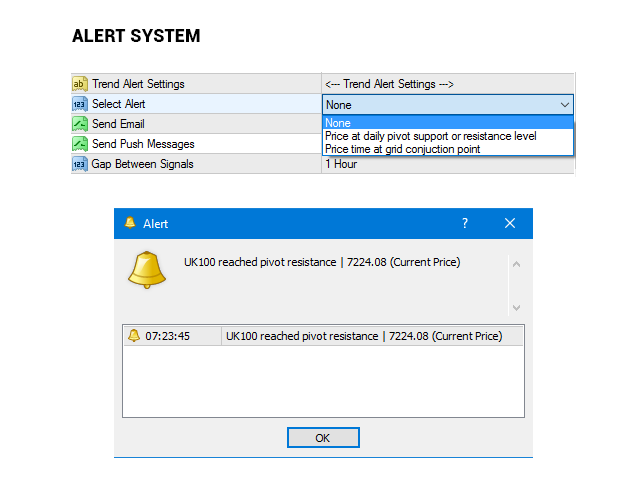 Price alert settings
Also, you can get alert every time the market reaches to any major or minor grid line conjunction points. Which is proven to be very useful.
Grid line example
Demo version installed, after renting product not working on MetaTrader

Please remove the indicator & restart the MetaTrader platform, then reinstall the indicator to make it work. If it still does not work. Then open a ticket at the MetaQuotes support center.
Can I buy this software / indicator?

You can subscribe to this indicator with monthly price. For 3 months subscription, discount is available.
What is maximum activation means?

It means maximum for how many devices you can use this indicator under your current license. If maximum activation is 5, that means if you rent it for one month, under that license you can use this indicator on 5 devices maximum.
Summary
Author Rating
Software Name
WD Gann Intraday Pivot Indicator
Operating System
Software Category
Price
Landing Page