How it helps?
Now you can plot WD Gann master charts support resistance on the live chart.
With custom timing, use it on any instruments other than forex.
Multiple time frame analysis for better entry & exits.
The ultimate tool for grid trading with the time factor.
Never miss a trade with email, push message alerts on your device.
Payment
You can purchase or rent this indicator from mql5 site directly.


Purchase includes

Access to the indicator

Auto software upgrade

Free web manual

Maximum activation for 5 devices

Life time technical support
Version
| | |
| --- | --- |
| Current Version : | 1.00 |
| Updated : | 21st June, 2019 |
| Published : | 21st June, 2019 |
| Operating System : | Windows 7/8/10 |
Info

| | |
| --- | --- |
| Timeframe : | 1 to 5 minutes |
| Trading Style : | Day trading |
| Traded on : | All, just adjust scale |
Protected by Copyscape
Manual Version : 1.9

Last updated on 23rd October, 2019
A simple indicator for powerful day trading with WD Gann trading strategies; tweaked, especially for modern markets. WD Gann was a trader who was famous for discovering master charts, especially the square root of nine & circle of 360 degree.
Scale Settings:
The most essential part of this indicator. It has 3 following scaling options that cover all major financial markets.
| | |
| --- | --- |
| 0.01 cent or 1 pip | Works best with Forex pairs |
| 0.1 cent or 10 pips | Works better with WTI crude oil, silver |
| $1 or more | Indices, Gold, BTCUSD bitcoin |
---
Indicator Panel
It shows both indicator parameters along with controls.
Status


"On" means currently activated on the current chart for the current day. If it is activated for the past chart, then it will show backtest & backtest date. It also shows indicator alert status in "on or in off" mode.

Symbol


shows the current symbol or instrument name.

Scale


Shows currently selected scale.

Trend status


Current day trend in Uptrend or downtrend. It also shows whether it is correcting any uptrend or downtrend.

Timing


By default, timing is set to 24 hours which is mainly used for the forex market. For other kinds of markets like stocks, equities, CFDs, indices & metals users can choose custom timing; start time and end time.

Chart display


This is the control panel of the indicator where you can quickly on or off daily, hourly, 4 hourly pivots & grid chart display only by a click.

At top of the indicator panel, there is another button to quickly hide the indicator panel from the chart to view the trading chart better. You can also bring back the indicator panel by clicking it again on the "show" button.
Daily Pivot Points

It shows pivot points in two parts, major &or.
The daily pivot level decides the day trend as it works with the larger time frame.
| Type | Support Levels | Resistance Levels |
| --- | --- | --- |
| Major | S1, S2, S3, S4, S5, S6 | R1, R2, R3, R4, R5, R6 |
| Minor | S1, S2, S3, S4, S5, S6 | R1, R2, R3, R4, R5, R6 |

NOTE:

Among these levels, Major S1 or Major R1 is an important area for breakout or reversal. If breaks Major S1 or Major R1 that indicates a breakout trade.
4-Hourly Pivot:

This is the newest addition hence the most useful one. 4 hourly pivot helps to decide forex sessional trends.

Hourly Pivot

Fine-tunes trade entry for day trading. It also helps to decide Stop loss & Take profit if used along with 4 hourly pivots.

Grid

Last but not least. Grid visual display is the best marking if you are planning for grid trading. Each square is equal by price and time. From a practical approach, grids are best to judge whether the market is in range or trending.
Grids also have major & minor support resistance levels. It has proven to be handy if you are planning to trade binary options. Cause with the grid you can mark on the timing also.
Related Link

Indicator Parameters

With basic indicator settings, you can choose the scale, color settings, font, line width, line style & last panel size.
Customizable screen size: By changing the panel size you can fit the indicator on any screen size, Smaller to Biggest.
Custom Timing

For non-forex instruments, custom timing is mandatory. For setting up the custom timing, choose custom timing to "True". Then add opening hour & minute plus closing hour & minute.
You can find this information from the instrument details. At MetaTrader market watch, right-click on the symbol & click on the instrument details.
Custom timing option settings
Input these data on indicator custom time settings:
Custom time input
Pivot History Bar

By default, the history bar is set to 0. Which means the current chart, current day. If the history bar is set to 1 that means the previous bar. So this way you can backtest directly on a live chart.
Alert settings

Nevertheless, with alert options, you can get two types of alerts.
Therefore you do not have to observe the chart for the whole day. You can set up the alert & run the MetaTrader on VPS. Alerts are available on the terminal, by email or mobile push messages.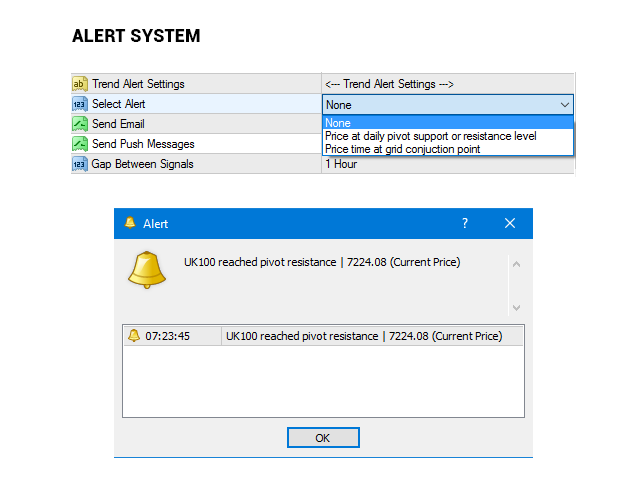 Price alert settings
Also, you can get alert every time the market reaches to any major or minor grid line conjunction points. Which is proven to be very useful.
Grid line example
Conclusion

It is advisable to decide trade based on other trends confirming indicators along with the WD Gann support & resistance levels. Multiple timeframe pivot points mend best with multiple timeframe analysis that proven to be an excellent tool for great entry & exits.
FAQ

What is maximum activation means?
It means maximum for how many devices you can use this indicator under your current license. If maximum activation is 5, that means if you rent it for one month, under that license you can use this indicator on 5 devices maximum.