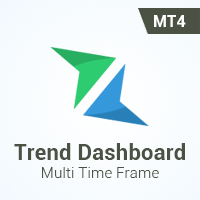 3 Monthly rent
$14.99
Free demo download
Metatrader 4
---
Purchase includes:
Access to the indicator
Auto software upgrade
Free web manual
Maximum activation for 9 Devices
Life time technical support
---
Version
| | |
| --- | --- |
| Current Version : | 1.04 |
| Updated : | 13th June, 2019 |
| Published : | 26th April, 2019 |
| Operating System : | Windows 7/8/10 |
---
How to purchase
You can purchase or rent this indicator from mql5 site directly.
---
What it does?
It shows bullish or bearish signal of different indicators.
---
What it does not?
It is not a standalone system, hence consulting with other technical analysis is highly recommended.
IQ Trend Master Dashboard
Multi Time Frame Analysis
---
Indicators scan multiple instruments or multiple currencies trend signal for 3 time frames one at a time! The best tool out now, for multiple time frame analysis.
Features
All available indicator features, youtube video, basic specification.
Manual
Indicator manual, tutorial, how to use the indicator.
FAQ
Indicator troubleshoot, frequently asked questions.
Top 7 features:
Multiple Instrument Simultaniously

check trend at a glance for all.

Auto Adjusted Dashboard

based on user input and indicator choice.

15 Trend Indicators

along with oscillators
Add Multiple Dashboard

on same chart

Multiple Timeframe Analysis

shows trend signal data for 3 time frames one at time.

Fully Customizable

option to change each idicator input settings, overall appearance.
---
Time Frame
Any time frame metatrader supports.
Trading Style
Anything from scalping to position trading
Traded on
All types of trading instrument, including forex pairs, commodity market, metal & indices.
Indicator Manual
Manual Version: 1.00 (updated 26th April, 2019)
Contents:
Indicator List
Indicator Signals
ADX
Bollinger Band
Envelope
Ichimoku Kinko Hyo
Moving Average
Parabolic SAR
Oscillator Signals
Average True Range (ATR)
Commodity Channel Index (CCI)
Relative Strength Index (RSI)
MACD (Moving Average Divergence Convergence
Momentum
Stochastic Oscillator
RSI Divergence
Bill William Indicators
Alligator
Fractals
Single Chart Data:
For easy usage, you can use "show data for current chart only" option, setting this option "true" will allow you to view trend, oscillator data for the current chart only.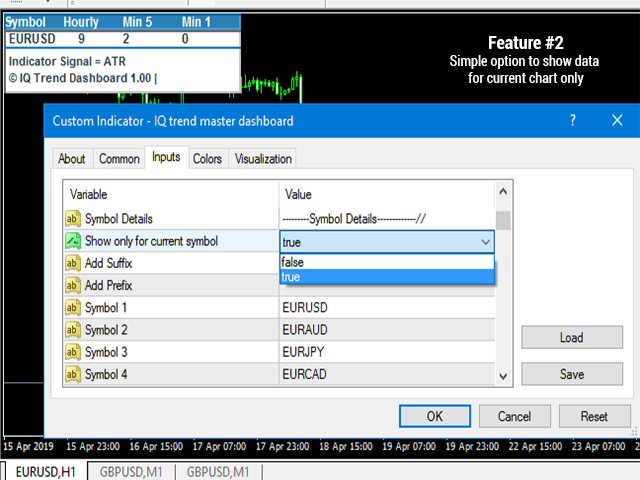 ATR (Average True Range)
Average true range shows the average price movement per bar or candlestick for any selected time frame in pips or points.
---
ADX (Average Directional Movement Index)
ADX shows the Bullish/Bearish Strength of instruments or currency pairs. It shows the following signals:
ADX Weak Bullish
ADX Weak Bearish
ADX Bullish
ADX Bearish
ADX Strong Bullish
ADX Strong Bearish
---
Alligator
Alligator is indicator designed by Bill Williams. Which is more similar to triple exponential moving average. It consists of three lines representing the alligator's jaw, teeth & lips.
Price inside alligator
Price above alligator
Price below alligator
---
Bollinger Band:
This indicator gets designed by John Bollinger back in 1980. It shows the volatility over time of financial instruments. It gets constructed by two moving averages with standard deviation & a middle line.
Bollinger band bullish
Bollinger band bearish
Bollinger band bullish breakout
Bollinger band brearish breakout
---
Parabolic SAR:
Parabolic SAR stands for Stop & Reverse which is developed by Welles Wilder, an American mechanical engineer. This indicator is very useful for sharp entry & exits. Mostly used to decide stop loss area base with price momentum.
Below SAR Bearish
Above SAR Bullish
---
Ichimoku Kinko Hyo:
Ichimoku Kinko Hyo commonly knows as "Ichimoku" & "Ichimoku Cloud" is a Japanese leading trend indicator. It had 5 different parts which get used in technical analysis for setting up a trade like Tenkan sen, Kijun sen, Senkou span A, Senkou span B, Chickou span. Span A & Span B basically forms the Ichimoku Cloud.
Price above Ichimoku Cloud
Price below Ichimoku Cloud
Price inside Ichimoku Cloud
Price above Tenkan Sen
Price below Tenkan Sen
Price above Kijun Sen
Price below Kijun Sen
---
MACD ( Moving Average Convergence Divergence):
MACD is a commonly used oscillator which consists of three types of trading ways, crossover, overbought/oversold conditions & divergence.
MACD bullish
MACD bearish
MACD below signal line
MACD above signal line
---
RSI (Relative Strength Index)
RSI is another type of commonly used oscillator which shows value ranging from 0 to 100. RSi mostly get used for divergence & overbought/oversold conditions.
RSI overbought
RSI oversold
This indicator has an option to show RSI value instead of overbought / oversold conditions. You can find this option in indicator RSI settings area:
Here is how it looks like,

---
Momentum
Momentum indicator counts the how much price has changed under a certain period of time. Basically a good way to understand market volatility. It is a leading oscilator to follow trend.
Price changes above 100%
Price changes below 100%
---
Stochastic Oscillator
This oscillator measure if closed price is analogous to its price range for a certain time period. It consist of two lines %K which is the main line & second line called %D. It also gives overbought oversold signals like RSI.
Stochastic overbought
Stochastic oversold
---
Envelopes
Envelopes made with two moving averages which get visualized as price channel. When price is inside the range indicating normal market condition. If price goes outside the range indicating volatility in market.
Price inside envelope
Price outside envelope
---
Fractals
This is the part of the Bill William indicator, calculated based on price action.
Showing Fractal Up
Showing Fractal Down
---
Moving Averages
Commonly used lagging trend indicator. It is basically a statiscial calculation of price average for a certain time period. Here this indicator shows crossover alert. If candle or bar get closes above any faster & slower moving average crossing point. It gives MA bullish cross alert. Viceversa for MA bearish cross.
MA bullish cross
MA bearish cross
---
CCI (Commodity Channel Index)
Calculation of this indicator is based on average price with the variation of price with an index point. It get represeted with in range of 0-100 with both +ve & -ve side.
Here, red represents CCI value in negative & blue represent CCI value between 0 to 100. Lastly, Green represent CCI value above 100.
Above 100  Positive (Green)
In between 0 to 100 Positive (Blue)
Below 0 Negative Value (Red)
---
RSI Divergence:
Advance level of technical analysis, RSI divergence is leading trend indicator. Signals does get formed so easily. Specially the hidden one. It as two parts, hidden divergence & classic divergence. When hidden divergence occours, it indicates a change in trend. On the other hand classic divergence represents continuation of trend.
RSI classic bullish divergence
RSI classic bearish divergence
RSI hidden bullish divergence
RSI hidden bearish divergence
FAQ
Demo version installed, after renting product not working on MetaTrader

Please remove the indicator & restart the MetaTrader platform, then reinstall the indicator to make it work. If it still doest work. Then open a ticket at the MetaQuotes support center.
What is Maximum Activation means?

It means maximum for how many devices you can use this indicator under your current license. If maximum activation is 8, that means if you rent it for one month, under that license you can use this indicator on 8 devices maximum.
How to backtest?

You can refer to our indicator video for more detail & visual guide. You can test this indicator with metatrader strategy tester.

First, open your broker MetaTrader software, then press control + R to open the strategy tester. In strategy tester only important thing you need to remember, that MetaTrader allows backtesting using one instrument or currency pair one at a time. For this reason, in indicator settings, you need to remove all forex currency pairs & then add only one. The one which you will use for backtesting.